OUTDOOR MAT FOR ANY ADVENTURE
The Adventure Mat is a ultra-compact, foldable rubber mat for all your outdoor adventures. Change on it, sit on it, organize your gear.
The innovative folding design ensures that the dirty side of the Mat never touches the clean side. Always clean on top | Ultra-Compact | 100% Waterproof | Multi-Use | All Seasons | Easy to Clean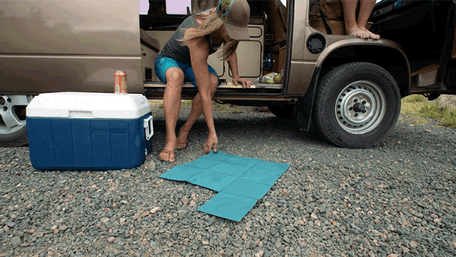 Watch this short video (57 sec) to see how the Mat works and it's many uses.
FEATURES

ALWAYS CLEAN ON TOP
The innovative folding design makes sure that the clean top side of the mat never touches the dirty bottom.

ULTRA-COMPACT
Folds down to the size of a napkin (7x7"). Perfect for your car, gear bag or backpack.

MULTI-USE
Great for camping, cycling, skiing, water sports and more. Change on it, sit on it, organize your gear.

ALL SEASON
Works great on dirt, sand, mud, and snow.

WATERPROOF/ QUICK-DRYING
The solid rubber material is 100% waterproof and it dries very quickly.

EASY TO CLEAN
Just rinse with plain water or add detergent. Antimicrobial.